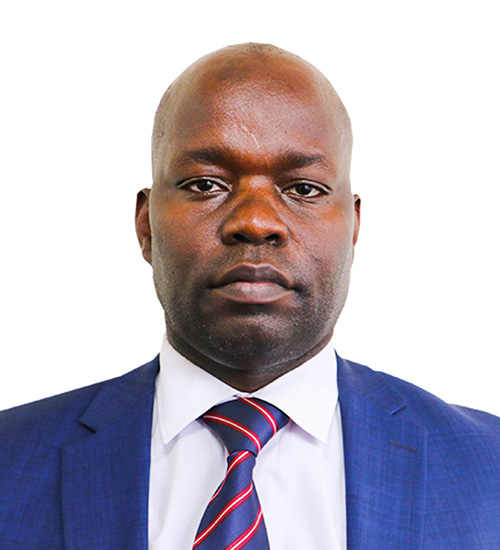 Willis Ombai
Ag. CEO, Water Sector Trust Fund (WaterFund)
Willis Ombai is Ag. Chief Executive Officer (CEO), Water Sector Trust Fund (WaterFund), having joined the WaterFund in September 2015 as Chief Manager, Investments and Programmes. He rose to the rank of Ag. CEO in February 2022. Mr. Ombai is a Development Expert with a bias in Natural Resource Management and with over 20 years of experience in various countries in Africa serving in different capacities.
He holds a Master of Arts Degree in Project Planning and Management from Maseno University, and a Bachelor of Science Degree in Forestry from Moi University. He is currently pursuing a PhD in Environment Policy from the University of Nairobi. Mr. Ombai has extensive experience in the management of development projects financed by bilateral, global and national agencies including Word Bank, the European Union, DANIDA, the German Development Bank (KfW), the International Fund for Agricultural Development, The Gates Foundation, Government of Sweden, Government of Finland and Government of Kenya.
In his previous portfolio as a Chief Manager, Investments and Programmes, Mr. Ombai's key role was overall supervision of the implementation of investments across WaterFund through monitoring and development of quality and timely reporting to Development Partners, the Board of Trustees and other key stakeholders. He led the development of short to long-term investment strategies, drafted policy documents, and developed and reviewed proposals for resource mobilisation, establishment and strengthening of partnerships. Mr. Ombai previously worked as a Project Coordinator at the Open Society Initiative for Southern Africa, a Civil Society Organisation on Sustainable Land Management (SLM) Project for Sub-Saharan Africa funded by the United Nations Development Programme (UNDP).
Key among his responsibilities was to provide strategic leadership to the project teams in budgeting, stakeholder engagement, grant management, risk assessment and assurance. High-level reporting for transparency and accountability in compliance with best practices, and national and international environmental laws was also part of his responsibilities. Mr. Ombai has been serving as the Secretary and Advisor to the WaterFund Board of Trustees (Investments & Monitoring Committee) on broader issues pertaining to investments in water, sanitation and water resources management projects, monitoring, evaluation accountability and learning. He has also previously worked for World Agro Forestry Centre (International Centre for Agroforestry-ICRAF), Danish International Development Agency and National Environment Trust Fund amongst others. Mr. Ombai is a member of the Forestry Society of Kenya, Environmental Institute of Kenya and Institute of Directors (Kenya).