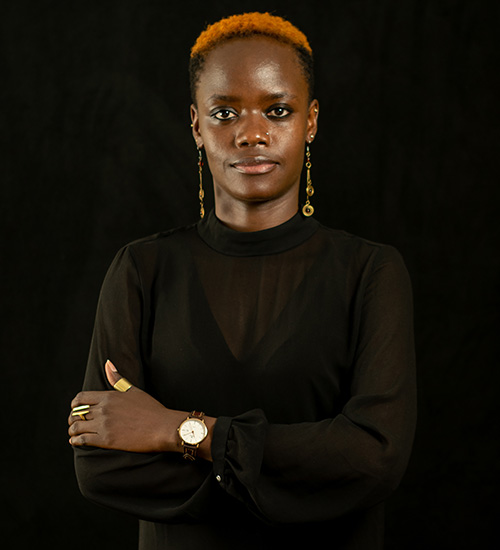 Valerie Nyamwaya
Designer, Afrivazi
Valerie Nyamwaya is a menswear designer who runs Afrivazi, a Nairobi-based menswear fashion brand. The brand is on a mission to empower men to be the best version of themselves by dressing them. Afrivazi, which prides itself in the use of fabrics from natural fibres in the making of its shirts, combines different cultural aspects to create designs that are not only practical but tell a story of its environment and the people who dwell in it.
Valerie, a graduate of Clothing, Textile, and Interior Design from Egerton University started her work in fashion more than 7 years ago with a desire to make herself and other designers make more from their work to have decent livelihoods. While she runs Afrivazi full-time, she has remained committed to this course at Makina Market in Kibra, where she operates from. This has allowed her to amass not only a local Kenyan clientele but an international clientele in both the UK and US with fortnight shipments done through DHL for both Afrivazi and other brands at Makina.
Afrivazi continues to provide employment to more than 40 tailors on both full-time and part-time basis through the course of their work with the highest number of tailors working for Afrivazi being in 2020 when the Covid pandemic hit Kenya. Valerie has been keen on ensuring that Afrivazi's business model allows tailors to maximize their income streams to allow them to better take care of their families.
Through her work at Afrivazi, Valerie continues to draw more attention to micro and small fashion businesses especially those from informal settlements and small markets (like Makina), and the role they play in the Kenyan Fashion industry and look into opportunities for collaboration to build brands with a bigger contribution to the economy.